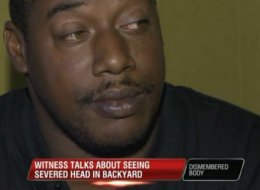 Memphis Man Says His Neighbor, Tried To Trick Him Into Deposing A S...
A Memphis man says that his neighbor tried to dupe him into unknowingly disposing of a severed head and other body parts.
Lacedric Ruffin said he went over to Michael Wilson, Jr.'s house last weekend to pick up some scrap metal that the man offered him. He told WREG that while they were loading the metal onto his truck, abag ripped and a severed head tumbled out.
"I'm like, man, what the hell you got going on, bro? He said something like he didn't mean to kill him. I said, kill who, brother? I don't want to know who that is, I don't want to know. You don't got to tell me," Ruffin said. "If that bag hadn't busted, I would have had a head going to the junk yard."