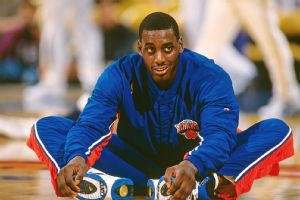 Anthony Mason, a longtime NBA player who helped the New York Knicks reach the 1994 NBA Finals, has died at the age of 48.
A Knicks spokesperson confirmed Mason's death to ESPN. The 13-year NBA veteran had been diagnosed with congestive heart failure earlier this month.
One of Mason's sons said earlier this week that his father was "getting better" following multiple heart surgeries.
Mason was a fan favorite during his five-year tenure with the Knicks. The 6-foot-7 forward teamed with Patrick Ewing,Charles Oakley and John Starks to help the Knicks win the Eastern Conference in 1994 and reach the NBA Finals, where they lost to the Houston Rockets in seven games.
Mason won the NBA's Sixth Man Award in 1994-95 as a member of the Knicks. He also played with the Charlotte Hornets, Milwaukee Bucks and Miami Heat following his stint with the Knicks.