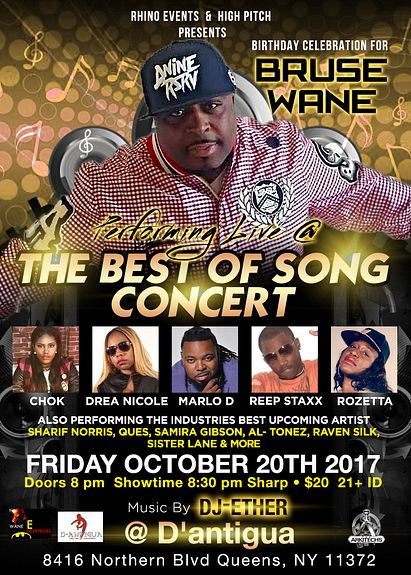 Real Hip Hop - Bruse Wane - Live @ The Best Of Song Concert October...
WHAT - "The Best Of Song Concert  with performances by Bruse Wane and other artist and guest appearances. A night of Hip Hop, Partying & Networking.

Bruse Wane: Known as HipHop's lyrical Dark knight.. New York City's own.. Bruse Wane has been called a must see sensation by Hip Hop fans and critics alike. Bruse established his name in the game by working with top selling and hard hitting Hip-Hop artist; such as Styles-P, Keith Murray, Sean Price, N.O.R.E, Papoose, Remy Ma, & Big pun's son Chris Rivers to name a few.  

Hosted By- Rhino Events & High Pitch ( If you like Hip Hop & Partying this event is for You !)That night Bruse will be performing is critically acclaimed songs "Venom", "Hercules", "Bam-Bam" & more Advance tickets Here
D'Antigua Lounge, 8416 Northern Blvd, Queens, NY 11372 Door 8pm- Showtime 8:30pm